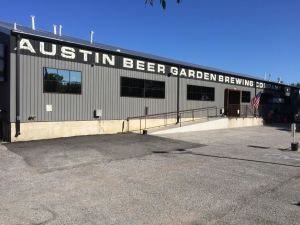 Austin Beer Garden Brewing Company is more than just a brewery that happens to serve pizza; it is a brewery that is well known for its pizza.  The ABGB, as it is called, has plenty of seating inside their converted warehouse with long communal tables, and there is also obviously the beer garden for outside seating.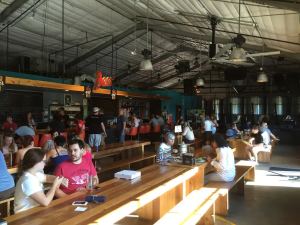 Besides typically offering about ten of their own brews, the ABGB serves appetizers, salads, sandwiches, pizza, and dessert.  Their pizza options can get very eclectic, and, as an example, they have one featuring artichokes, oyster mushrooms, fried egg, squash, red onions, fontina val, lemon zest, and crushed red pepper.  Since I try not order pizza when I have no idea what multiple of its toppings are, I got three slices of their more standard offerings: the calabrese (a somewhat thick pepperoni in this instance), the house-made sausage, and the margherita.
Austin Beer Garden Brewing Company won't split their pizzas in half in terms of the toppings on them, but they do offer good sized slices for around $3.50 each.  That is the option I went with, and I'd say two slices should be plenty for most.  I just ordered the third because I enjoyed their pizza, and because I'm about as good at stopping eating pizza as the Kardashians are at not being on TV.  My calabrese and house-made sausage slices were thin and somewhat greasy, while the margherita was less greasy, as could be expected.  All slices were thin and flimsy enough that they are likely best eaten with utensils or slightly folded like New-York style.  I liked them all but would probably lean more towards the tasty meat pizzas that had just the right amount of grease on future visits.  They also offer some white pies, but I liked their red sauce too much to go that route. 
While Austin Beer Garden Brewing Company was plenty busy when I dined there on a Wednesday evening, I was impressed by how well staffed they were.  Even sitting at the bar, I was often checked on by many different employees.  All in all, the ABGB serves good beer and pizza, so I would be a fool to not recommend it.
What I Ate: Calabrese, House-Made Sausage, and Margherita
Rating: 7.5/10
Austin Beer Garden Brewing Co.
1305 West Oltorf
Austin, Texas 78704
(512)-298-2242
TheABGB.com
<