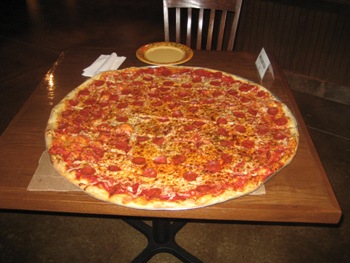 Have you ever thought it would be fun to try to consume a 29″ pizza in under two hours?  If so, I can now speak from experience and let you know that you would be very,very wrong.  Before we get to my poor attempt at Barlo's Pizza's "Big 29 Challenge," let's look at some of the statistics.  This bohemoth of a pizza weighs in at eleven to twelve pounds, is the equivalent of four large pizzas, and is obviously 29 inches across.  Of the countless challengers, it is rumored that only three have ever completed it, and at least one of which was in fact a professional eater.  This challenge is so daunting that, not only is the pizza free to anyone who finishes it, but they are also awarded a cash jackpot of at least $300 (the award starts at $300 and $10 is added for each person who can't finish it; it was at $600 after my unsuccessful attempt).  And now to the challengers: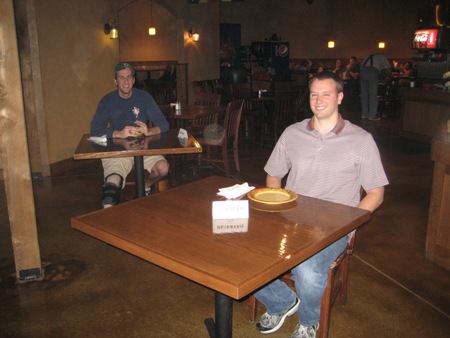 You must call a day prior to attempting the Big 29 Challenge to place your order and prepay.  Once you arrive you are forced to sign an agreement saying that you won't sue if this challenge causes your stomach to explode (there is some more legal jargon, but I'm pretty sure that's the jist of it).  You are then seated at a predetermined table where you are not even allowed to move the location of your chair.  There are no restroom breaks allowed during the challenge, and you are only permitted to stand or walk within the immediate vincinity of your table during the it.  Furthermore, nobody is allowed at or near your table while the challenge is taking place.  Now that the rules are out of the way, let's begin:
Alas, I was so happy in beginning, not fully comprehending what I was getting myself into.  While I had two hours to complete the challenge, I knew I would need to have consumed roughly half of the pizza within the first thirty minutes to have any shot at it.  I started off strong, powering through the first three rows (out of a total of eight) within about the first twenty minutes.  Then, unfortunately, my momentum began to slow and each chew and swallow of a bite of pizza seemed to take several minutes.  I was having to drink more water to aid in the swallowing process, and, needless to say, at this point it no longer tasted very good.  Finally, after probably only eating five or so slices in the next hour, I conceded to the Big 29 Challenge pizza having consumed roughly half of it within an hour and a half.  It was a painful defeat: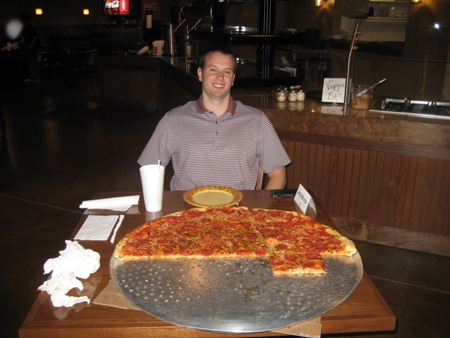 When all was said and done, I had eaten at least five pounds of pizza (30 slices) in ninety minutes.  My fellow competitor ate about a third of his pizza in an hour when he decided to waive the white flag, or napkin.  If I could do it over again (which is tough to think about at this point), I would get a beverage besides water.  I still would try to drink very little to avoid filling up on it, but I think a different flavor would have helped me to power through a couple more slices at least.  It might help to put things in perspective to know that the half of the pizza that I took home as leftovers served as six regualr size meals before it was all finished.  I commend Barlo's Pizza on having a truly intimading challenge.  Unfortunately, it has since closed, so this was my one and only attempt at the Big 29 Challenge.