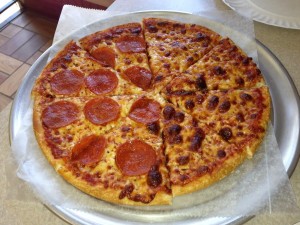 Camden is a neat seaside town in Maine, and it's small enough that I believe I can list all of the pizza options in its downtown/harbor-area:
Camden House of Pizza – the only place that specializes in pizza

Cuzzy's – a restaurant/bar that serves brick oven pizza all day

Smokestack Grill – a restaurant/sports bar that doesn't open until late afternoon on some days

Cappy's Chowder House – a large restaurant that only offers a margherita pizza appetizer
After scouting out all of the possibilities, I chose Camden House of Pizza since it is the most focused on pizza, and I was pretty happy with my selection.  It keeps up with the small town charm of Camden by being a mom and pop shop where the owner greats everyone as "friend" when they walk in.  He then takes your order (have cash because that's all they accept), and, if you dine in, his wife brings you your food when it's ready.  Being so close to a park and the harbor, carryout from Camden House of Pizza is a good option as well, but I took advantage of their small eat-in area.
Camden House of Pizza also serves salads, grinders, hamburgers, and a few other items, so I decided to try their garlic bread with cheese to at least get a taste of what else they have to offer.  It had a lot of flavor, and its nearly homemade taste supports their quaint image.  Their pizzas come in small (10-inch) or large (16-inch) sizes, and I ordered a small with half pepperoni and half just cheese.  The crust was fairly thin and crispy, and the pizza had a nice amount of grease.  I found the cheese to be pretty good, the sauce to be decent, and it is nice that it is a fairly light pizza if you plan to do any outdoor activities afterwards.  Overall, I think Camden House of Pizza offers a good break from the typical seafood of the area, and most seem to think that it is the best option for Pizza in Camden.
What I Ate: Half Pepperoni and Half Cheese
Rating: 7.0/10
Camden House of Pizza
12 Mechanic Street
Camden, ME 04843
(207)230-2464