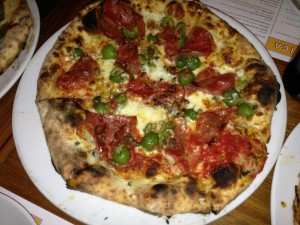 While in New Orleans, Louisiana for a trade show with some work colleagues, I searched online for the best pizza in the city, and Domenica was the most consistent result I got back.  I didn't have much time to research, so I trusted that the internet is never wrong and made reservations at Domenica for our last night in town to allow everyone to get their fill of more famous N'awlins food first.  After eating plenty of gumbo, po-boys, crawfish, and beignets, most of my coworkers still weren't very excited to try New Orlean's best pizza for some odd reason.  Thankfully, they all gave in and had what most described as their best meal of the trip at Domenica.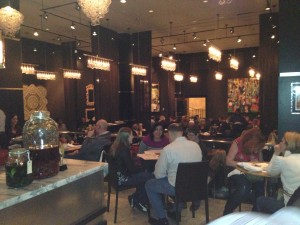 Domenica is attached to the Roosevelt Hotel in the Central Business District of New Orleans, and it is technically just about a block away from the French Quarter.  The Roosevelt is a very nice hotel, and, as you can see in the picture above, Domenica is a lot classier than your typical neighborhood pizzeria.  I believe they are most famous for their pizza, but Domenica also serves a variety of other traditional Italian dishes.  We started with some wine and beer as well as the Affettati Misti (basically an Italian term for sampler appetizer), which is the chef's selection of assorted salami, imported cheeses, marinated olives, and roasted vegetables. It was pretty good but nothing compared to the pizza that was to follow.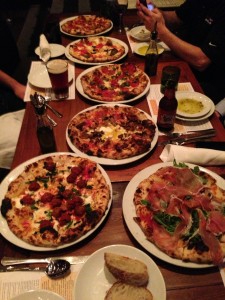 As you can see by the pizza spread above, we really got excited taste everything Domenica had to offer…and we were not disappointed.  I don't think I can express with words, at least not ones in my vocabulary, how flavorful all of their toppings are, but they were truly delicious.  The crust was also cooked to perfection in their pizza oven that was made in Parma, Italy and features a rotating base that can hold up to thirteen pizzas at a time.  I have a picture of the oven below, and I really liked how it helped to ensure that the crust cooked evenly and didn't get that charcoal taste on any of it.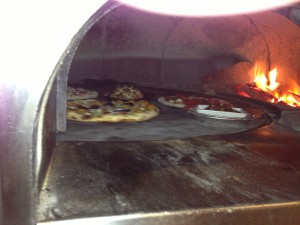 My favorite pizza of the group at Domenica was the Calabrese, and it is the featured picture at the top of this review.  The Calabrese consisted of spicy salami, mozzarella, capers, and green olives.  Although it is somewhat rare, I really like green olives on pizzas, and the ones on the Calabrese added a delicious saltiness to the rich cheese and flavorful meat that was incredible.  My second favorite pizza was probably the Spicy Lamb Meatball which was made up of the lamb meatballs – that happened to be some of the most savory meat I have ever tasted on a pizza – as well as ricotta, rapini, and mint.  The Tutto Carne pizza that is essentially just a lot of good meat probably came in third place of all of the pizzas in my opinion.  All of Domenica's pizza options are listed on their website, and below is a picture of the Spicy Lamb Meatball to further wet your appetite.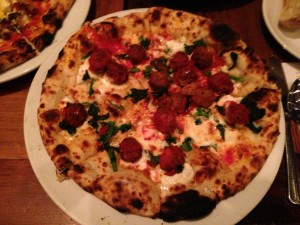 I have a very limited data set seeing as though Domenica is the only pizza restaurant I have eaten at in the state of Louisiana.  Still, I am very confident in recommending it as the best pizza in the crescent city of New Orleans.  While it may not be a great fit for a casual lunch since it is somewhat upscale, an order of beignets at Café du Monde should be able to hold you over until eating dinner at Domenica for some of the best pizza around.
What I Ate: Calabrese and Spicy Lamb Meatball
Rating: 9.0/10.0
Domenica
123 Baronne Street
New Orleans, Louisiana 70112
(504)648-6020
DomenicaRestaurant.com
View Larger Map