Many pizzerias with roots in a college town are famous for some greasy side item that keeps the students fueled whether studying or bar hopping.  DoubleDave's Pizzaworks started in College Station (home of Texas A&M), and I believe their Peproni Rolls are that very item for many Aggies.  In fact, they somewhat remind me of Kilroy's stuffed breadsticks from my college days at IU.   However, while I may be biased as a Hoosier, I would say the stuffed breadsticks at Kilroy's are a little better.  I will admit that the pizza at DoubleDave's is much more enjoyable than that of Kilroy's though.
Despite the fact that a single tasty Peproni Roll is about the equivalent of a slice of pizza, I did save some room for actual pizza and tried one with sausage and pepperoni and another with ham, bacon, and extra cheese.  I would say that both pizzas were good, but no part of them stood out as truly exceptional.   Their fresh hand-tossed dough had good consistency but not too much flavor.  However, they do a nice job of countering that by including ranch dipping sauce with their pizzas.  The meats on both pizzas were fairly flavorful and were my favorite part of each.  I didn't notice a big increase in cheese on the one that was ordered with extra cheese, so I wouldn't recommend paying extra for that.  Again, I did enjoy the pizzas, but there was just nothing too special about them.  My order was a carryout one, so they may also be better if enjoyed when they are fresh out of the oven.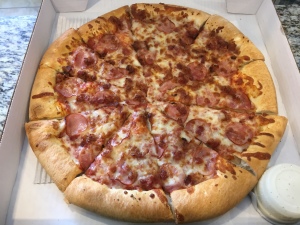 DoubleDave's Pizzaworks is definitely a solid pizza option in a state that is generally more focused on BBQ and steak, but just be sure to try some of the Peproni Rolls in addition to their pizza.  The location I ordered from in The Woodlands appeared to have the setup for a lunchtime buffet.  I would like to return to try it if that is the case, assuming Peproni Rolls are also on it.  
What I Ate: Sausage and Pepperoni, and Ham, Bacon, and Extra Cheese
Rating: 6.5/10
DoubleDave's Pizzaworks
6777 Woodlands Parkway #314
The Woodlands, TX 77382
281-419-3283
DoubleDaves.com