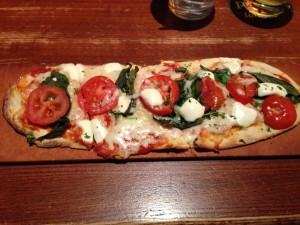 Houlihan's Restaurant and Bar has many locations, including two in central Indiana.  I ate at the Houlihan's in northeastern Indianapolis' popular Castleton Square Mall (just to clarify, its attached to the outside of the mall but is essentially its own building and is not a part of the food court in the mall or anything like that).  The inside of this Houlihan's is made up of two fairly distinct areas catering separately to the restaurant and the bar portions of their name.  Both areas are fairly upscale, and my tip is that it is possible to see the televisions in the bar from most areas of the restaurant if you position yourself appropriately.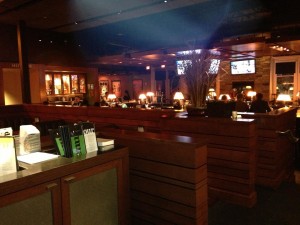 Houlihan's Restaurant and Bar serves appetizers, soup, salad, seafood, sandwiches, steak, flatbreads, and various other entrées along with beer, wine, and mixed drinks.  Therefore, even the pickiest of eaters should be able to find something they like, and I chose to start with their Soft Bavarian Pretzel Sticks.  These pretzel sticks come with two dipping sauces; smoked Swiss beer-cheese and house made stone ground mustard.  They weren't the greatest pretzel sticks and dips that I have ever tasted, but they were still tasty enough that I would probably order them again as an appetizer on future visits to Houlihan's.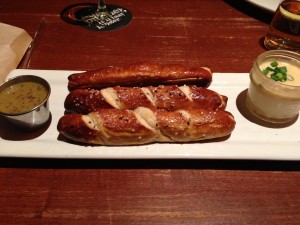 Houlihan's Restaurant and Bar offers BBQ Chicken, Wild Mushroom & Arugula, Margherita, and Italian Sausage flatbread pizzas.  I settled upon the margherita which is made up of marinara sauce, basil, tomatoes, and fresh mozzarella and romano cheeses.  My favorite part was the cheese because it was more flavorful and plentiful than is typical for a lot of flatbreads.  However, there wasn't much else that stood out to me, and I was not a big fan of its cracker-thin crust.  It wasn't bad, but I just think the flatbreads at Houlihan's are probably better as appetizers, and there are a lot of other tempting items on their menu that would likely be better as the main course.
What I Ate: Margherita Flatbread
Rating: 4.5/10
Houlihan's Restaurant and Bar
6020 East 82nd Street
Indianapolis, IN 46250
(317)845-9428
Houlihans.com
View Larger Map