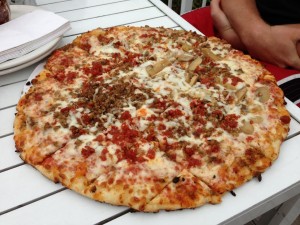 Typically, I wouldn't expect really good pizza from a restaurant that you can access via boat in Indiana, but Jake's Beach House on Lake Shafer in Monticello is an exception.  The reason?  They get all of their ingredients from Pizza King. 
I ordered a pizza with pepperoni, sausage, and mushrooms per the recommendation of a Pizza King connoisseur, but the mushrooms were just on his half as I don't really like fungi on my pizza.  The sausage and pepperoni on my half were both very good.  The thin crust was good as well, although it was not salted like you will see at some Pizza Kings. 
Jake's Beach House has a lot of other food besides pizza plus a full bar and a famous house drink called The Octane.  They have an inside eating area and a large deck overlooking Lake Shafer.  I don't think you would be disappointed by ordering one of their pizzas on the deck on a nice summer day.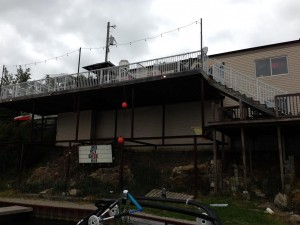 What I Ate: Sausage and Pepperoni with Mushroom on Half
Rating: 7.0/10
Jake's Beach House
5313 N West Shafer Drive
Monticello, IN 47960
(219)253-5253