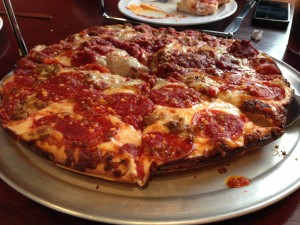 Jimmy Stix is a new family-owned pizzeria in Carmel, Indiana.  The owner previously owned Wise Guy's Pizzeria but has since sold it in order to open up Jimmy Stix.  They have a friendly staff and a broad menu that features salads, wings, subs, calzones, pasta, and pizza.   They also serve their namesake "Jimmy Stix" as a starter, and these are the garlic garlic Parmesan bread sticks pictured below: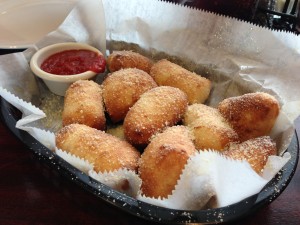 There are a large amount of topping options and specialty pizzas available at Jimmy Stix, and all of these pizzas come on thin, hand tossed, or Sicilian deep dish crust to add to the multitude of choices.  After having compared the Sicilian deep dish pizza pictured above with the thin crust one below, I would recommend the Sicilian if you tend to like a lot of sauce and the thin crust if you typically prefer to taste the cheese more.  This is because the Sicilian has sauce both under and on top of the cheese, and the thin crust pizza allowed the flavor of the cheese to dominate more.  While my cholesterol numbers prove my love of cheese, I actually preferred the Sicilian at Jimmy Stix as their sauce was very good and clearly featured some blend of spices.  I am pretty sure I would choose the Sicilian over the hand tossed pizza as well because the thin crust wasn't actually all that thin and likely doesn't vary from the hand tossed too much.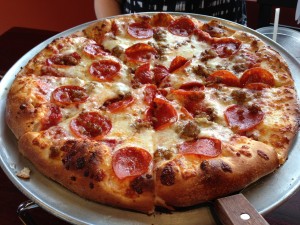 Overall, I definitely support giving Jimmy Stix a try if you live or work near it.  They offer some different combinations of lunch specials centered around pizza by the slice, and they also offer carry out and delivery; giving you no excuse for not sampling Jimmy Stix  This is especially true since they serve such a wide variety of food – even though I cannot support getting something besides pizza.
What I Ate: Pepperoni and Sausage
Rating: 7.5/10.0
Jimmy Stix
Menu
720 Adams Street
Carmel, IN 40632
(317)844-5560
JimmyStixPizza.com
View Larger Map