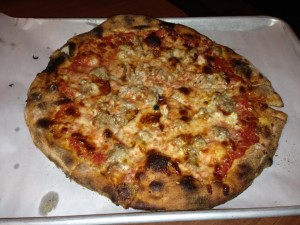 Contrary to  its name, Modern Apizza has been serving New Haven-style pizza, or "apizza," since 1934.  I believe only Frank Pepe's has been serving pies in New Haven, Connecticut longer, and there seems to be great debate over which establishment is the best.  Only having time for one, I settled upon Modern Apizza which is in a fairly nice strip of restaurants and shops not far from Yale's campus.  They have a very small private lot but be prepared to search for street parking since Modern Apizza's popularity causes it to fill up quickly.  I will say that I found their name to be a little more appropriate once I saw that the inside had a modern feel.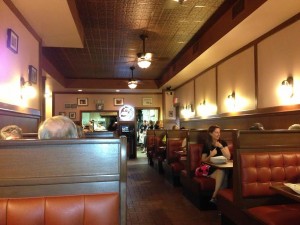 Modern Apizza offers some beer and wine, and they also have the delicious Foxon Park soda.  Besides pizza, they make grinders, calzones, and a few Italian dinner specialties.  I started with their bruschetta appetizer and was very pleased with its diced garlic and fresh tomato toppings.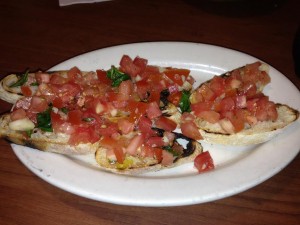 Modern Apizza has a lot of specialty apizzas, but I created my own with sausage and garlic.  The crust was charred yet slightly chewy in consistency as is characteristic of New Haven-style pizza, and I liked that it wasn't too crispy.  The best part, in my opinion, were the large chunks of sausage that really packed some flavor.  The sauce seemed simple and was probably the hardest part of the apizza to taste, but it was still good.  I'm sure you can't go wrong with Frank Pepe's or Modern Apizza, but I really enjoyed Modern Apizza and am happy I went there.
What I Ate: Sausage and Garlic
Rating: 8.5/10
Modern Apizza
874 State Street
New Haven, Connecticut 06511
(203)776-5306
ModernApizza.com