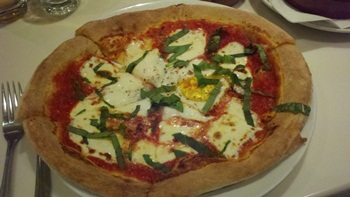 Napolese Pizzeria, owned by and right next door to Cafe Patachou, is just one block east of Meridian at 49th and Pennsylvania near Butler University in Indianapolis.  They offer authentic artisan pizzas cooked to perfection in a brick oven.  Each pizza is made from hand-formed dough and topped with their homemade tomato sauce.  Their pizza preparation area is viewable to all guests and is surrounded by a bar which then opens up into the rest of the pizzeria.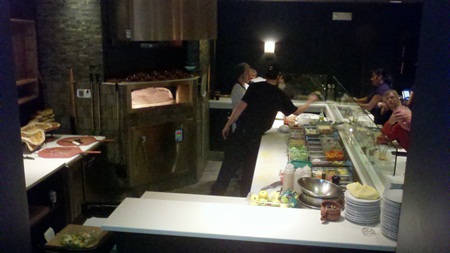 Their really isn't a whole lot of seating in the area beyond the bar, so I certainly wouldn't go to Napolese during prime dining hours and expect to be seated right away (they do not take reservations).  Luckily, they do offer wine and beer while you wait, and the beer list includes a few options from the local Sun King Brewery.  Once you are seated, they start by bringing you a dish of olives in true Italian fashion, and taking your drink order.  As an appetizer, I tried their housebaked focaccia served with baked goat cheese in tomato sauce for dipping.  Just as I was afraid of, the goat cheese was a bit much for me, but the focaccia was delicious.  I enjoyed it plenty all by itself, and I also dipped it in the tomato sauce while adding just a little goat cheese as it was quite powerful.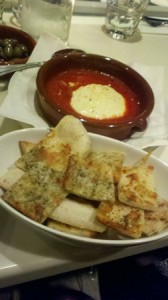 The goat cheese didn't stop my adventurous spirit on this night though as I continued on to order the Broken Yolk pizza, which is their margherita pizza with a whole egg in the middle.  While it is not something I will order everyday, I really liked the Broken Yolk pizza as the egg flavor really complimented the cheese well (I figure that I like cheese so much as it is, I don't need to add the cholesterol of an egg to my pizzas for my poor heart's sake).  My favorite part of the pizza was probably Napolese Pizzeria's homemade sauce as it was very good and fresh-tasting.  Also, their crust is thin as to be expected from a brick oven pizza, but the outside edges of it are soft and not crispy, which made for perfect dipping into the tomato sauce left over from the appetizer.  Additionally, back to my love for cholesterol, I found that there was an ample amount of cheese on the pizza which is not always the case at artisan pizzerias.  I enjoyed my pizza so much that I had no trouble finishing it, and my wife did the same way with Classic pizza, which consists of sauce, mozzarella cheese, and pepperoni (pictured below).  However, I could definitely see getting an appetizer and splitting a pie for the less hungry or more frugal as each pizza averages around twelve dolloars.   To conclude, I definitely recommend trying Napolese Pizzeria to anyone looking for great artisan pizza in Indianapolis.
What I Ate: Broken Yolk
Rating: 8.0/10.0
Napolese
114 East 49th St
Indianapolis, IN 46205
(317)925-0765
CafePatachou.com
View Larger Map