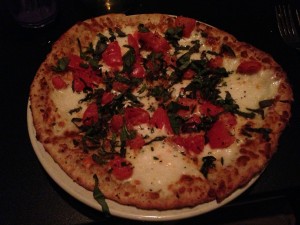 Padrino, located in downtown Milford, is just three doors down from 20 Brix – a restaurant by the same owners.  I am told that 20 Brix is a very nice restaurant as well, but, naturally, I wanted to try Padrino since it has been recognized as having one of the area's best pizzas by Cincinnati Magazine.  Before I even get to the pizza, I should note that you can also get various appetizers, salads, sandwiches, and entrees, as well as beer and wine, at Padrino.  I started with their cheese bread with marinara which had a good amount of seasoning and spices, particularly garlic, and was delightfully tasty.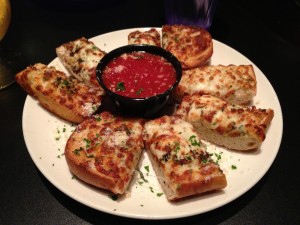 Moving onto the pizza at Padrino, they offer a large variety of traditional and specialty toppings in order to satisfy nearly all tastebuds.  I decided to go with one of their predesigned options, their bruschetta pizza, which consists of fresh tomato, garlic, basil, olive oil, aged parmesan, and fresh mozzarella.  I was very pleased with the fresh taste of all of the toppings on my bruschetta pizza, and I also liked the crust.  It was thin, yet substantial, and somewhat crunchy towards the edges.  My wife ordered her own concoction of Padrino's famous meatballs with garlic.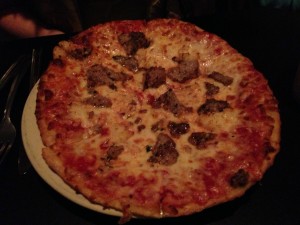 The meatballs were pretty good, but I couldn't really taste the garlic that much.  Additionally, I preferred my olive oil with fresh tomato to the tomato or marinara sauce on her pizza.  Still, both pies were very good, and I think some of the best pizza in Milford, and potentially the entire Cincinnati area, may be found at Padrino.  Their pizzas come in two sizes – individual 10-inch and large 15-inch – and gluten free crust is also available at Padrino.
What I Ate: Bruschetta Pizza
Rating: 8.0/10.0
Padrino
Menu
111 Main Street
Milford, OH 45150
(513)965-0100
20Brix.com/Padrino.com
<
View Larger Map