As take and bake pizzas continue to gain in popularity, I felt it to be my duty to review three common options available throughout most of the country: Walmart, Papa Murphy's, and Costco.  Below are brief reviews and pictures of each followed by my recommendation for the best take and bake pizza of the three (teaser: it is probably not the one you are guessing).
WalMart's Take and Bake Pizza: WalMart's Marketside take and bake pizza is sold within the deli section of most WalMart stores.  The best part of their take and bake pizzas in my opinion is that they have a good amount of cheese on them.  However, other than that, I didn't taste a lot to separate their take and bake pizza from a good frozen pizza.  In fact, their crust reminded me of a frozen pizza's crust in that it was kind of thick and crunchy.  While the pepperoni wasn't spectacular, I do have to give them credit for having both the diced and sliced variety on it, and I would also like to note that they have a Marketside cheese bread offering that is pretty good.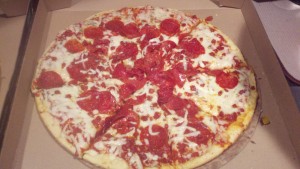 Papa Murphy's Take and Bake Pizza: Papa Murphy's is a pizza chain with locations in thirty-seven states that does nothing but take and bake pizzas.  Actually, they offer somes sides as well, but my point is that they do not serve cooked pizza.  I typically get pepperoni pizzas from Papa Murphy's because that is my wife's favorite, but I prefer their Italian sausage as it is very flavorful.  Papa Murphy's also does a good job with the cheese in terms of quantity and quality, but their biggest negative in my mind is that their crust can be tricky to cook evenly.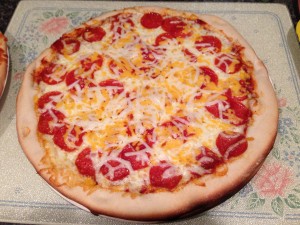 Costco's Take and Bake Pizza: You can buy mayonnaise by the gallon and get your oil changed at Costco, so why shouldn't you be able to get a great take and bake pizza there as well?  Costco's Kirkland take and bake pepperoni pizzas are completely covered with large slices of tasty pepperoni.  I was very impressed with how nicely their take and bake pizzas' crusts cook, and the only negative I noticed was that the pizzas could use slightly more cheese if you like cheese as much as I do.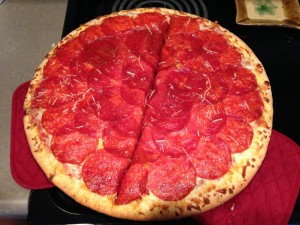 Conclusion: In a very tight race, Costco edges out Papa Murphy's as offering the best take and bake pizza of three in my opinion.  This might be a bit of a shocker since Papa Murphy's has helped to popularize take and pizzas, but I feel as though Costco's tasted the best overall.  Plus, its only shortcoming of potentially being slightly light on cheese is easily overcome.  With that being said, I still enjoy Papa Murphy's and will continue to eat it in the future.  I would recommend WalMart's take and pizza in a scenario where the price makes it the most cost-effective option.