Below are some interesting facts about pizza:
Pizza originated in Naples, Italy. Antica Pizzeria was the world's first pizzeria. It opened in Naples, Italy in 1738.
The first pizzeria in the United States was opened by Gennaro Lombardi in 1905 in New York City (here is my review from when I was lucky enough to visit it).
Chicago-style deep-dish pizza was created by Ike Sewell at his bar and grill called Pizzeria Uno in 1943 (here is my review from when I ate there).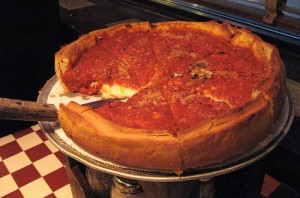 It wasn't until the 1950s that Americans really started noticing pizza. Celebrities of Italian origin, such as Jerry Colonna, Frank Sinatra, Jimmy Durante, and baseball star Joe DiMaggio all devoured pizzas. It is also said that the line from the song by famous singer, Dean Martin; "When the moon hits your eye like a big pizza pie, that's amore" set America singing and eating pizzas.
Frozen pizzas were introduced and found in local grocery stores in 1957. The first was marketed by the Celentano Brothers. Pizza soon became the most popular of all frozen food.
Italian food ranks as the most popular ethnic food in America.
Pizzerias represent 17% of all restaurants.
It is estimated that about three billion pizzas are sold in the United States every year.
The pizza industry is worth more than $30 billion yearly in the United States.
Pepperoni is the most popular pizza topping in the United States.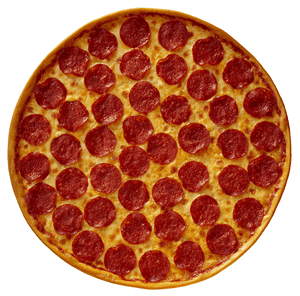 Americans eat approximately 100 acres worth of pizza every day, or about 350 slices per second.
An average person in the United States eats about 23 lbs., or 46 slices of pizza every year.
About 93% of Americans eat at least one pizza every month.
October is National Pizza Month in the United States.
There are over 61,000 pizza restaurants in the United States, and there are over 9,000 pizzerias in New York alone.
According to a recent Gallop Poll, children between the ages of three and eleven prefer pizza over all other food groups for lunch and dinner.
Women are twice as likely as men to order vegetarian toppings on their pizza (I apologize to the women readers for not enjoying vegetables on my pizza).
The record for the world's largest pizza depends on how you slice it. According to Guinness World Records, the record for the world's largest circular pizza was set at Norwood Hypermarket in South Africa in 1990. The gigantic pie measured 122 feet 8 inches across, weighed 26,883 pounds, and contained 9,920 pounds of flour, 3,968 pounds of cheese, and 1,984 pounds of sauce. In 2005, the record for the world's largest rectangular pizza was set in Iowa Falls, Iowa. Pizza restaurant owner Bill Bahr and a team of 200 helpers created the 129 X 98.6-foot pizza from 4,000 pounds of cheese, 700 pounds of sauce, and 9,500 sections of crust. The enormous pie was enough to feed the town's 5,200 residents ten slices of pizza each.

References: library.thinkquest.org/J0112790/facts.html, homemade-pizza-made-easy.com/pizza-facts.html, pizzaware.com/facts.htm, virgiliospizzeria.com/pizzafacts.htm, recipes.howstuffworks.com/fresh-ideas/dinner-food-facts/12-facts-about-pizza.htm