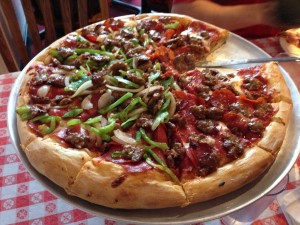 Flying Pie Pizzeria currently has four locations in Oregon, and I ate at the one in Portland.  This name may sound familiar to Man versus Food viewers because Adam Richmond once tried a triple habanero pie at a Flying Pie Pizzeria in Boise, Idaho.  I believe that restaurant and a couple others in Idaho have original ties to the ones in Oregon, but they have since come under different ownership.  The one in Boise was the first, but the Flying Pie Pizzeria I visited in Portland is at least the flagship of the Oregon Flying Pies.  Now that I am sure I have thoroughly confused their history, let's get to the important discussion of their pizza.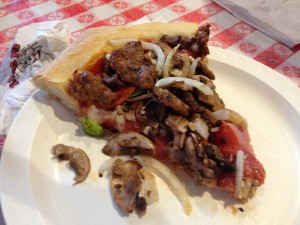 Flying Pie Pizzeria is known for their toppings, and I was able to witness the cooks painstakingly pile them onto pizzas like the Combo Supreme #1 pictured above.  Regular readers may be thrown off by me having this pizza as I am not a big fan of vegetables on pizza (I prefer to stick to the fatty Italian meats).  Rest assured, I did not order it, but I did oblige by trying a slice after some convincing.  To my own surprise, I did not mind this pizza as the flavorful sausage and pepperoni overpowered the vegetables, and the ones I did taste were at least very fresh.  Feeling invigorated by enjoying a supreme pizza, I started to get real crazy and try their Shake 'N" Bake pizza with BBQ sauce, chicken, bacon, and red onion.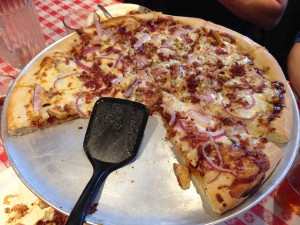 I won't say that I disliked this pie, but it departed too far from what pizza is meant to be in my opinion.  I like BBQ, and I like pizza – separately.  Plus, I feel as though chicken is the least flavorful meat one can put on a pizza.  Therefore, this pizza sent me back to my purist pizza ways, and I finished by enjoying some trusty pepperoni and sausage.  I am still glad I tried a variety of what Flying Pie Pizzeria had to offer, and it is definitely a great place for someone that likes to get more creative with their pizzas.  Besides their toppings, I also enjoyed their hand tossed crust that comes from homemade dough.  While it is pretty thick, it tastes good enough to allow it to be a decent portion of the overall pizza.  It is definitely worth giving Flying Pie Pizzeria a try if you are in Portland, Milwaukie, Lake Oswego, or Gresham.
What I Ate: Pepperoni and Sausage and Others
Rating: 8.0/10.0
Flying Pie Pizzeria
Menu
7804 SE Stark Street
Portland, OR 97215
(503)254-2016
Flying-Pie.com
View Larger Map