I am usually a standard Tombstone frozen pizza type of guy as I feel like it is a pretty happy medium between the really cheap and tasteless frozen pizzas and the expensive ones that still aren't as good as a fresh-baked pie.  I typically add a little bit of shredded cheese to my frozen pizzas and sometimes even a topping or two from home, and I am fairly happy with that result especially considering the price and convenience.  Still, I thought it would be best to venture further out into the world of frozen pizzas and report on my results.  Below are reviews of various specialty frozen pizzas with before and after photos:
DiGiorno Pizzeria Primo Pepperoni Pizza ($6.49): DiGiorno's "pizzeria" offering of frozen pizzas intrigued me, and I was happy with the seasoning as well as the spicy pepperoni.  When I first took it out of the box, I had an urge to add cheese to it as it didn't look to have enough covering, however I did not want to change the makeup of the pizza at all for the integrity of the review.  Thankfully, I ended up being pleasantly surprised with the fact that it had enough cheese once it was all melted and the pizza was fully cooked.  The crust is airy as they promise, but I don't think it lives up to their claim of it being soft on the inside.  This certainly isn't a big disappointment though as I am not sure any frozen pizza can pull that off.  Overall, I enjoyed DiGiorno's Pizzeria Primo Pepperoni Pizza, but I don't know that it is worth spending the extra money as $6.49 is considerably more than some other frozen pizzas go for, and the pizza was slightly smaller than most frozen pizzas.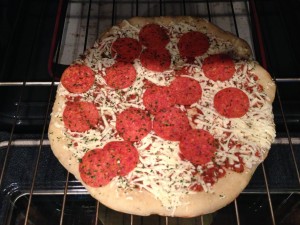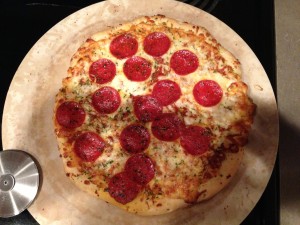 Newman's Own Thin & Crispy Uncurred Pepperoni ($6.99): Newman's Own Thin & Crispy Uncurred Pepperoni frozen pizza is also just slightly smaller than standard frozen pizzas and is the same starting price as DiGiorno's Pizzeria Primo Pepperoni Pizza.  However, one important thing to note when it comes to the money is that all profits from Newman's Own brand food goes to various charities.  I liked this pizza's thin and crispy crust, and its pepperoni was flavorful.  However, I found its sauce to be rather plain, and it did not have quite as much cheese as I might have liked.  Overall, while it was fun to try a different type of frozen pizza, I am not sure Newman's Own Thin & Crispy Uncurred Pepperoni pizza is worth the extra money as compared to other frozen pizzas unless you are purchasing it partially to know that some of the money you spend may go to charity.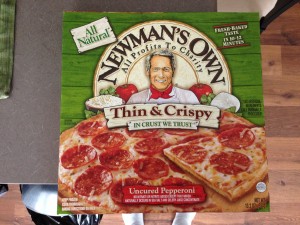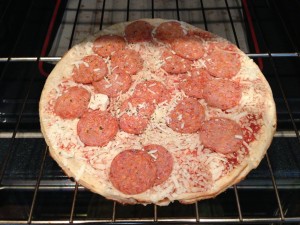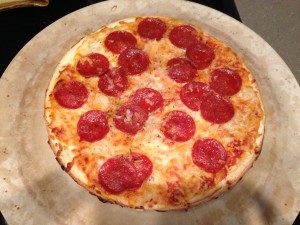 Home Run Inn Pizza ($8.29): Home Run Inn offers frozen pizza out of Chicago and is my favorite of all of the frozen pizzas I have tried.  I was very impressed that they managed to capture the taste and flakiness of a crust that you would expect of a Chicago pizzeria, and I liked the cheese even more.  The cheese was very rich, and you'll notice that it appears to have been precooked, which is certainly not the norm for frozen pizzas.  The only drawbacks I can think of for Home Run Inn is that their pizzas are tied for being the most expensive of the ones I sampled, and, in true Chicago fashion, they have the most calories.  A single Home Run Inn cheese pizza is over 2000 calories, but it is bigger than the DiGiorno Pizzeria and Newman's Own Thin & Crispy pizzas at least.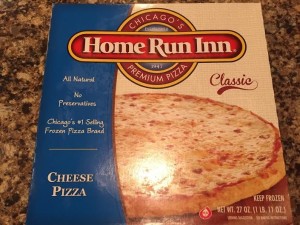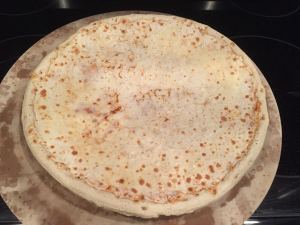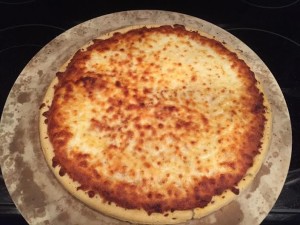 Tombstone Pizza ($3.99): Their pepperoni probably isn't a flavorful as some of the others, and the standard crust isn't as good. However, Tombstone pizzas are the cheapest of the ones I sampled, and I believe their price point represents the Mendoza Line for frozen pizzas…if you go for cheaper options, then you risk getting nearly inedible pizzas.  Plus, Tombstone pizzas are actually bigger than DiGiorno Pizzeria pizzas and Newman's Own Thin & Crispy pizzas. If you want to spice it up a little, then Tombstone offers garlic bread crust pizzas that don't cost any more than the standard ones. Overall, Tombstone pizzas represent a pretty good bang for your buck.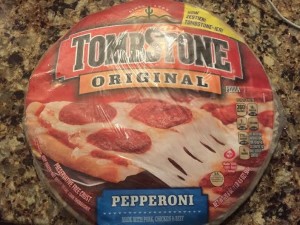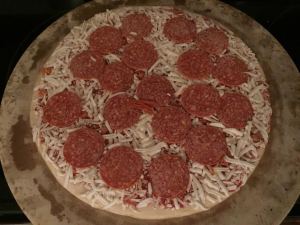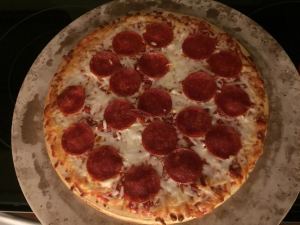 Conclusion: After taking price into consideration, I stand by my original thought of Tombstone being the best option.  If flavor were the only criteria, then I would prefer any of the others.  However, only Home Run Inn truly stood out as a great-testing frozen pizza in my opinion, and it is more than double the price of Tombstone.  Its price is approaching what you can get a pizza delivered for on special, and I always prefer a fresh pizza.  I recommend trying different frozen pizzas from time to time as they go on sale to spice things up – I have seen all of the ones I sampled on sale at least once – but sticking with Tombstone most often to save money for going out for pizza.  Remember you can add your own cheese and toppings to Tombstone to take them up a notch, and they still end up being pretty cheap.  Overall, I think of frozen pizza as a temporary fix until I can go out to a nice pizzeria, so I don't like spending a lot of money on them.