Graziano's Pizza in Dunbar, West Virginia might not wow you with its location – a small strip mall next to a gas station.  And, you might not be overwhelmed with its atmosphere – an ordering and dining setup like that of a fast food chain.  However, I think you will appreciate their friendly staff and large menu.
In an effort to sample some of the non-pizza items on their menu, I tried Graziano's breadsticks.  They were large, so be sure you're hungry when ordering them as just an appetizer.  There wasn't a lot to them aside from some butter on top, but they were decent.  Also, the marinara sauce they come with was pretty good.
For those in a hurry, Graziano's offers pizza by the slice ready immediately.  However, I wanted to taste their freshest pizza, so I ordered my own with sausage and green olives.  The crust was somewhat doughy like the breadsticks, but I don't mind that.  Graziano's says their pizza is New York-style, but I'd say the crust was a little on the thick side for that.  I assume they use the same good marinara sauce on the pizza as what came with the breadsticks, but it's flavor didn't stand out a lot on the pizza.  The toppings were probably my favorite part of the pizza.  Although the sausage was not what I expected, and I think it may have been bacon instead.  Whatever meat it was, I still enjoyed it.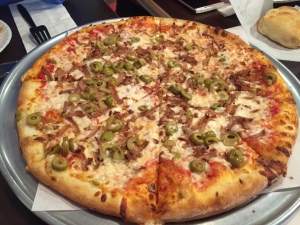 What I Ate: Sausage and Green Olive
Rating: 6.5/10
Graziano's Pizza
925 Dunbar Ave,
Dunbar, WV 25064
(304)766-7100
GrazianosDunbar.com