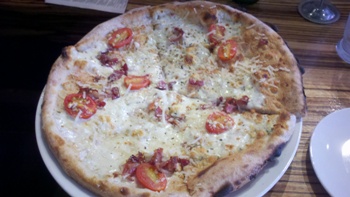 This restaurant is named after Monza, the city in Italy that is most famous for its Grand Prix motor racing circuit, the Autodromo Nazionale Monza. Following is information from Monza's website in regards to how they stay true to the Neopolitan style of pizza from that region:
"Our dough is made using imported San Felice wheat flour, natural Neapolitan yeast, filtered and pH balanced water then kneaded with a mixer imported from Naples. Our pizza is baked in a wood fired oven at 1000 degrees resulting in a thin crispy crust, topped with fiore di latte mozzarella, and fresh local and regional ingredients whenever possible. "
While dining at Monza I tried the P83 pizza (all of their pizzas appear to be named after drivers or cars), and it consisted of gorgonzola and mozzarella cheeses as well bacon and grape tomatoes. This pizza had no sauce, and the rich gorgonzola cheese really was the flavor that really stood out on it. I also sampled a pepperoni pizza, and the homemade sauce on it was excellent. Additionally, Monza offers salads, pasta, and antipasti along with Italian wine and beer. I would recommend Monza to anyone looking for quality Neopolitan sytle pizza in a fairly casual environment.
What I Ate: P83
Rating: 7.0/10.0
Monza
451 King Street
Charleston, SC 29403
(843)720-8787
MonzaPizza.com