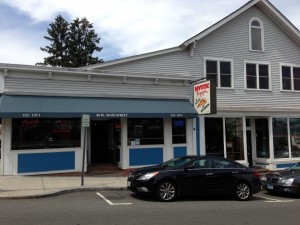 Mystic Pizza was started by the Zelepos family and was actually quite popular for fifteen years before screenwriter Amy Jones decided to feature it – and the town of Mystic – in her movie about three young waitresses. Mystic Pizza starring a young Julia Roberts further increased the demand for a "A Slice of Heaven" at this pizza parlor, and they have since opened up Mystic Pizza II in North Stonington and have started selling frozen pizzas across the country to keep up with this demand. Upon entering Mystic Pizza, I was impressed by the character of the restaurant and was entertained by the television playing the movie on a loop on the back wall.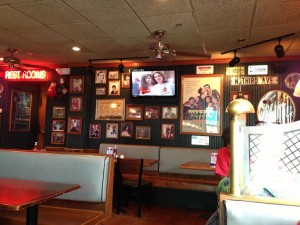 Mystic Pizza has a more to their menu than just pizza, but the furthest I was willing to branch out was by starting with their garlic bread with cheese as an appetizer. I really liked how the garlic flavor shined through on it even with the addition of cheese.  I am sure it would have been good as plain garlic bread without the cheese as well.
I wanted to experience as much of their pizza as possible, so I got a pizza that was half their Meatza Pizza specialty (meatball, sausage, salami, pepperoni, and bacon) and half just pepperoni. The Meatza Pizza portion was loaded with huge pieces of meat, and the full slices of crispy bacon were my favorite part. The half with the single topping of pepperoni allowed me to better savor the sauce and cheese, which were both tasty. While the bacon was tough competition, I think I would lean slightly towards less toppings because I really enjoyed their sauce and cheese. My liking for their sauce may be because they cater to cheese lovers like me by putting a little Parmesan cheese in it.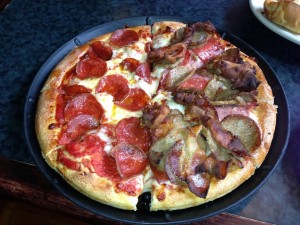 Having known nothing about Mystic Pizza aside from the fact that it was featured in a movie, I found the pizza to be excellent and felt that it exceeded my expectations.  An added bonus was that its location is great for walking around the neat town of Mystic and viewing the Mystic river, and this can be a nice activity for afterwards if you indulged in too much pizza and want to burn some calories.
What I Ate: Half Pepperoni and Half Meatza Pizza
Rating: 8.5/10
Mystic Pizza
56 West Main Street
Mystic, CT 06355
(860)536-3700
MysticPizza.com