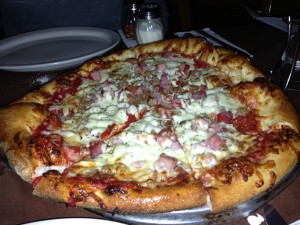 Big Mike's Cafe Americana is a family-owned restaurant located in an unassuming strip mall off of College Avenue on the far north side of Indianapolis.  I wasn't sure what to expect for the interior of Big Mike's given its location in an older-looking strip mall, but I was pleasantly surprised upon entering.  More importantly, my wife approved of their dine in atmosphere, and I have posted pictures of the inside and outside of Mike's at the bottom of this review in hopes that nobody else will have to live in fear of their spouse disapproving of the ambiance as I did.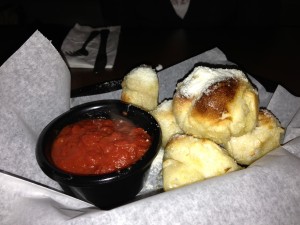 Our meal at Big Mike's Café Americana started with a couple beers – they have a small bottled beer selection as well as Coke products – and their garlic parmesan knots pictured above.  I then decided to try a hand-tossed Team G pizza which consisted of Italian sausage, pepperoni, bacon, ham, and salami.  Despite all of this glorious meat, my favorite thing about the pizza was their slightly sweet house marinara sauce.  I also enjoyed the cheese as they put both mozzarella and provolone on all of their pizzas.  Big Mike's Café also offers Chicago-style pizza that I would like to try, but I really liked the hand-tossed crust that managed to be cripsy on the bottom while still airy on the edges with what seemed to be some sort of butter brushed on it. 
The only negatives I can think of for Big Mike's are that they are not open for dinner on Sundays and Mondays and are only open until 8 pm on the other days, and that they only offer one large size of hand-tossed pizza.  My wife tried the chicken sandwich leaving me with a lot of leftover pizza, but, thankfully, it reheated pretty well.  She was pleased with her chicken sandwich, and I found their fries to be delicious when I snuck a couple of them from her plate.  Overall, it is definitely worth trying the pizza at Big Mike's Café Americana, and you can click the menu link below to see everything else they serve.
What I Ate: The Team G Pizza (a lot of meat)
Rating: 7.5/10.0
Big Mike's Café
Menu
9611 College Avenue
Indianapolis, IN 46280
(317)571-1000
BigMikesCafe.com
View Larger Map