I had been hearing good things about V's Pizza & Pasta since they opened in Noblesville in January of 2014, so I was excited to check them out for myself.  They were very friendly and informative when I called in my order, but my enthusiasm dwindled slightly when I pulled into their parking lot and saw their very modest exterior.  However, the interior was pleasant enough with a small amount of dine-in seating, and they immediately got on my good side when they explained their VIP program to me.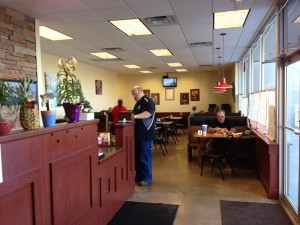 What is better than eating pizza as often as possible?  Getting rewarded with free pizza for doing so!  V's Pizza & Pasta's VIP program tracks your orders by your phone number, and they give you a free large pizza after every $100 you spend.  This is a great rewards program in my opinion, and it is especially valuable since I don't believe they have many coupons aside from some special savings packages on their website.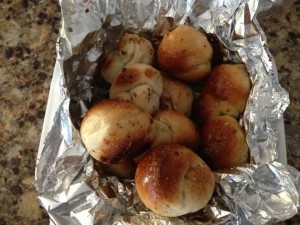 After already winning me over with their VIP program, I then just needed to make sure that their food was good enough to keep spending money on.  Once I sampled their garlic knots, bruschetta, and grandma pizza, my taste buds quickly assured me that this would not be a problem.  The garlic knots were small but packed with garlic flavor, and the bruschetta had a solid pesto taste.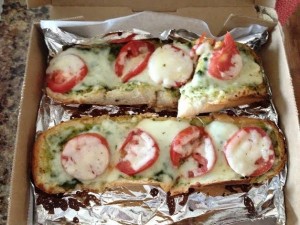 Finally, onto my grandma pizza which I tried with their pizza sauce on top of half and their vodka sauce on top for the other half.  I am typically more of a pizza sauce type of guy, and I think that would remain my preference for the grandma pizza.  However, the vodka sauce did combine nicely with the cheese to create a creamy texture on that half.  I found the basil to be particularly flavorful and enjoyed the bites that included it.  The only negative that I can say about V's is that I sometimes found their dough to be a little tough in both their crust and garlic knots, but only about half of it was that way.  All in all, I do plan to visit V's Pizza & Pasta again and look forward to getting one step closer to my free large pizza.
What I Ate: Grandma Pizza
Rating: 7.5/10
V's Pizza & Pasta
Menu
111 South Harbour Dr.
Noblesville, IN 46062
(317)773-8688
VitosPizzaCafe.com